Animal Success Stories
Click a letter to find an animal or
view all
.
Tessa
Hi, Kate and Andrea! Just a quick update on Tessa. My family and I adopted her on July 5th. We were a little worried because she was so depressed and thin when we got her...she had been through a lot! But 5 weeks later, she's doing great! She's so happy and playful and we love her to death! She is the sweetest, most gentle girl and loves walks, playing and running around with our pygmy goats! Here are just a few photos of Tessa in action. I'll have to get one of her and the goats soon. Thank you so much for all you do. We can't imagine her alone on the streets or stuck in a cage waiting to be put down. You saved her life and we are so grateful. Keep up the great work! Tessa says hello to Beau! Sincerely, Jenna Olah
Sugar
I adopted Sugar, a Maltese, from you in October of 2007. She is an angel, and is enjoying a wonderful, happy life now. Watching and helping Sugar (verrrrrry slowly!) heal and grow into a happy, playful dog has been the most rewarding experience of my life. I'll never forget the day Sugar discovered running. It was like she found herself. I can't thank you enough for saving her.
Darcy
Andrea, We adopted Darcy (now called Marina) February 9th of 2010. She will be one on 11/19 and I wanted to let you know how much we love her. She is such an important part of our family. Everyone that meets her falls in love with her. I am enclosing a picture of her for you. I had a DNA test done and the only thing they could tell us was that her intermediate breeds were golden retriever and collie. We believe that she is more skipperkee than anything else. She weighs about 30 lbs and her temperment and hair are that of the skipperkee. Whatever her breed, she has been a wonderful addition to our family. Molly Riemann
Shadow
Andrea, Shadow is enjoying her new home, She fit right in and is very loving to everyone. She made herself right at home. Thank you for giving her a chance to be brought into our home. I will keep you updated. David and Bonnie Burkhard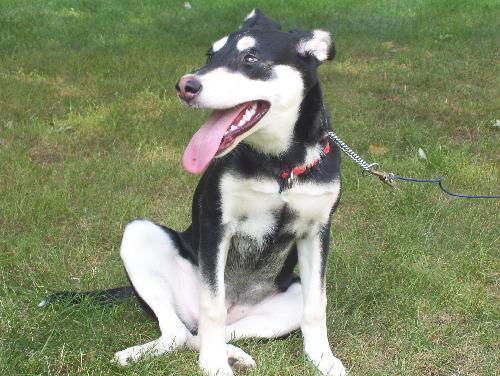 Sophie
WHAT CAN I SAY BUT THAT SOPHIE WAS MEANT TO LIVE WITH US AND BECOME A WONDERFUL AND COMPLETELY LOVED MEMBER OF OUR FAMILY ALREADY! I SEE THAT CHRISTA HAS FILLED YOU IN QUITE A BIT AND ALL I CAN SAY IS THAT SOPHIE WAS LIKE A LITTLE PRAYER ANSWERED FOR US FOR MANY REASONS.
IN THE BEGINNING I WAS NOT SURE THAT ANOTHER DOG WAS IN THE FUTURE FOR US, BUT THEN REALIZED THAT SHE WAS MEANT TO BE A PART OF US ALL FOR SO MANY REASONS. I THINK GOD KNEW WHAT WAS IN THE FUTURE FOR US AND SHE WAS JUST IN THE WINGS WAITING FOR AN OPENING TO BECOME A PART OF ALL OF US. NEEDLESS TO SAY THAT SHE ALREADY OWNS A PART OF EACH OF OUR HEARTS AND THERE IS NO REASON TO BELIEVE THAT SHE IS NOT AS HAPPY WITH US AS WE ARE WITH HER.
SHE IS GENTLE, ENERGETIC WITHOUT BEING OVERLY SO, AND SHE IS A WONDERFUL "HOT WATER BOTTLE" IN BED. SHE HAS NOT HAD ANY ACCIDENTS IN THE HOUSE AND SHE IS HAPPY TO GO OUTSIDE AND THEN COME RIGHT BACK IN TO BE A PART OF OUR "PACK". SHE HAS ALREADY LEARNED TO SIT AND THEN LIE DOWN WHEN OFFERED A TREAT. WHAT A LOVE.
FEEL FREE TO WRITE ANY TIME AND WE'LL KEEP YOU POSTED AS WELL. I SHOULD POINT OUT THAT SHE IS ALREADY 'CARVING' HER OWN LITTLE WAYS . . . NO OTHER DOG HAS EVER BEEN INTERESTED IN THE LAZY BOY CHAIR IN OUR LIVING ROOM -- WELL, ALL BUT LITTLE CUDDLE BUNS HERSELF. SHE SEEMS TO HAVE ENJOYED RELAXING THERE!!!!! SHE ALSO IS A GREAT CAR TRAVELER AND JACK IS SO EXCITED ABOUT THAT IN PARTICULAR!!
THANK YOU FOR KEEPING HER WELL AND SAFE UNTIL SHE WAS 'USHERED' INTO OUR LIVES. IT IS FOLKS LIKE YOURSELF WHO GIVE THESE DEAR AND GENTLE CREATURES A CHANCE THAT THEY MAY NEVER HAVE HAD.
GOD BLESS YOU AND YOUR FAMILY FOR LOVING THESE FURRY ONES .... WARMEST REGARDS, CHRISTINE AND FAMILY
~~~~~~~~~~~~~~~~~~~~~~
Hi Andrea! We all ADORE Sophie and couldn't have imagined better. She is sweet and well behaved and she fits right into our family as though she has always been a part of us. I will allow my mom to fill you in on her end, but as for my family, my kids cannot get enough of her- They play fetch and chase and cuddle, and today she enjoyed her first hike in Cuyahoga Valley with Cynders. Her howl is hilarious and husky "talking" reminds of so much of Lady. What a love! We couldn't be happier or more in love with her. Thank you and we'll be happy to give extra hugs from you- She's sure to smother with kisses.
Christa and family
Click a letter to find an animal or
view all
.